Robert Patterson
1869-1931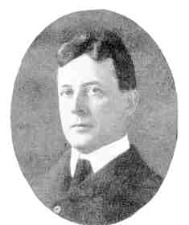 1902
Vice-President Robert Patterson, after his extended tour throughout Europe, returned on November 26th to New York from Liverpool by the White Star liner 'Teutonic'. Mr. D. W. Saxe and Mr. F. A. Groves accompanied him to Liverpool. In that city they met Mr. F. B. Gibson, our sales agent at Liverpool, and District Manager H. A. Murphy, and all proceeded to the landing stage to wish Mr. Robert Patterson, in the name of the British Organization, a safe and pleasant voyage home.

His trip through Europe, as he tells us, greatly broadened his views of the foreign field, and we understand that he will return to Europe at no very great lapse of time, and make a further study of the business on this side of the "herring pond."
Every member of the British Organization knows what it means to the business in this country when a man like Vice-President Robert Patterson studies our particular requirements and makes up his mind to do everything possible to further our interests.

Mr. Robert Patterson left England very enthusiastic as to the future of the business in the various countries of Europe. Europe probably cannot yet realise the advantages that this trip of the Vice-President will bring. He returns to the factory with extensive memoranda requiring his attention there in connection with the foreign field. This, coupled with the fact that Second Vice-President Hugh Chalmers also was here early in the year, and that both of these gentlemen know the requirements of the European business, and will act upon them at the Factory, will help it forward very materially. Probably no officer of the Company has seen so much of European needs as Mr. Robert Patterson on this trip.
Just before starting, Mr. R. Patterson sent the following telegram
To the British Organization,
"A fair field and no favour; may the best Organization win.-Good-bye"
We have anxiously awaited word of the Vice-President's safe arrival at New York, but it is not to hand at the moment of writing. The weather this time of the year is against one on the Atlantic, but we trust his voyage was as pleasant as possible.